Prime Minister Sheikh Hasina arrived here in Tokyo this afternoon local time at the start of her four-day official visit to Japan.
Tokyo is the first stop during the PM's two-week three-nation official visit that will also take her to the USA and the UK, reports UNB.
A VVIP chartered flight of Biman Bangladesh Airlines carrying the prime minister and her entourages landed in Haneda International Airport, Tokyo at 4:45pm (Japan time).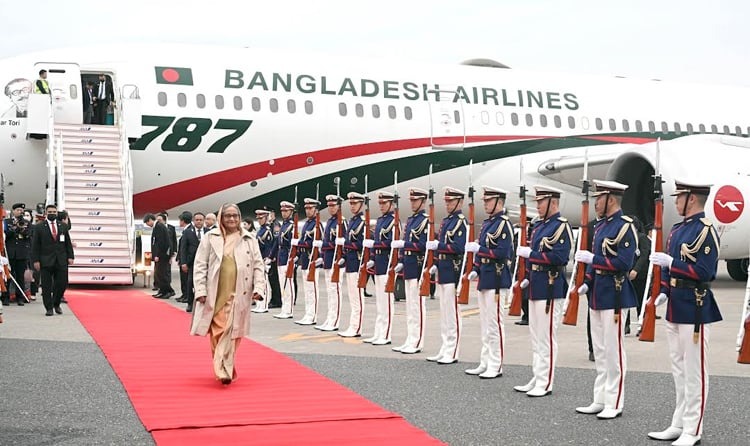 (Photo: Collected)
Japanese State Minister for Foreign Affairs Takei Shunsuke welcomed her at the airport.
She was given static guard of honour in the airport.
Earlier, the aircraft carrying the premier departed Hazrat Shahjalal International Airport at 7:56am.
Hasina is visiting Japan from April 25 to 28, at the invitation of Japanese counterpart Kishida Fumio.
As per the foreign ministry officials, during her visit Bangladesh and Japan are likely to sign eight memorandums of cooperation (MoCs) or agreements including one on defence cooperation without purchase.
The MoCs or agreements would be signed during a meeting between the two Prime Ministers (Sheikh Hasina and Kishida Fumio) of the friendly countries on April 26.
Eight MoCs or deals are likely to be signed between the two countries in the sectors of agriculture, metro-rail, industrial up-gradation, ship recycling, customs matters, intellectual property, defense cooperation, ICT and cyber security cooperation etc in presence of the two leaders after the formal bilateral meeting between the heads of government of the two countries at the Prime Minister's Office of Japan.
Sheikh Hasina will have a courtesy call on Emperor of Japan Naruhito on April 26 and a guard of honour will be given to the Bangladesh Prime Minister there.
The formalities of the meeting will conclude with a dinner hosted at the residence of the Prime Minister of Japan in honor of Prime Minister Sheikh Hasina.
This will be the sixth visit of Prime Minister Sheikh Hasina to Japan. Earlier, the PM visited Japan in 1997, 2010, 2014, 2016 and 2019.
During the visit, the PM is scheduled to attend an investment summit and a community reception along with a few bilateral meetings.
She will also hand over the "Friends of Liberation War Honour" to a few Japanese nationals, according to the Ministry of Foreign Affairs.