Soumitra Chatterjee, the legend of the Bengali acting world ... has breathed his last at a private hospital in Kolkata.
The 85-year-old actor was admitted to the hospital on October 8 after testing positive for Covid. Despite some improvement in his physical condition, the veteran actor eventually succumbed to various ailments as his cancer and other complications continued to grow.
Soumitra Chatterjee has acted on the silver screen of the film for over 60 years. Successful stage actor, playwright, playwright, poet and founder and editor of the literary and cultural magazine named Ekshan. Chattopadhyay was born on 19 January 1935 in Krishnanagar, Nadia district in West Bengal.
Their family home was in a village called Kaya near Shilaidaha in Kushtia, Bangladesh. They started living in Krishnanagar from the time of his grandfather.
His primary education was in Krishnanagar. Later, his father moved to Calcutta for work and later he went to Calcutta for college and university education.
Soumitra Chatterjee was interested in acting since childhood. In an interview given to BBC Bangla, Mr. Chattopadhyay said that Krishnanagar had a very good drama practice in his childhood. Her father used to perform in amateur drama troupes there, reciting poems at home and there was an atmosphere of drama.
"In my childhood, we also used to make a stage at home with planks, make curtains with bed sheets and play small plays with siblings and friends. The elders of the house also gave us a lot of encouragement. My addiction to drama increased a lot from the time I was in class four or five," said Soumitra Chatterjee.
He first performed on the school stage in an English play - 'Sleeping Princess'. For which he also received medals and medals.
While studying in the first year of Bangla Honors in college, he came in contact with playwright Shishir Kumar Bhaduri. From then on, he dreamed of making acting his main goal in life. His natavinaya deeply inspired Soumitra Chatterjee.
"I made up my mind when I was in BA final class - I will act, I will not do anything else," he said.
Apur Sansar (The World of Apu)
He made his film debut in 1959 in Satyajit Ray's 'Apur Sansar'. Soumitra Chatterjee has played the lead role in 14 films of Ray. And he developed a deep bond with director Satyajit Ray. Mr. Ray with Ray. Chatterjee also wrote a book called "With Manikdar". His English translation is called "The Master and I".
Just as Satyajit Ray was very particular about the details of the film, so did the actors he worked with. Her close friend and documentary maker Soumitra Dastidar told the BBC that she had found an old notebook in Soumitra Chatterjee's library which was from the time Charulata was shot.
He told the BBC that Soumitra Chatterjee had practiced handwriting on white paper many times to highlight the kind of handwriting that was in vogue during Rabindranath's time. Dastidar.
Pather Panchali
When Satyajit Ray was looking for someone for the role of Kishore Apu to do the second part 'Aparajit' after making his first film 'Pather Panchali', Mr. One of Roy's acquaintances, who knew Soumitra Chatterjee, took him to Ray. In an interview with BBC Bangla, Mr. Chatterjee said he was then M.A. Read.
"I grew up with Apu as a teenager. As soon as he saw me, he said, 'You've grown up.' "I went and found out much later that he had fixed it after seeing me, then there would be one for young Apu and he decided he would do the third part."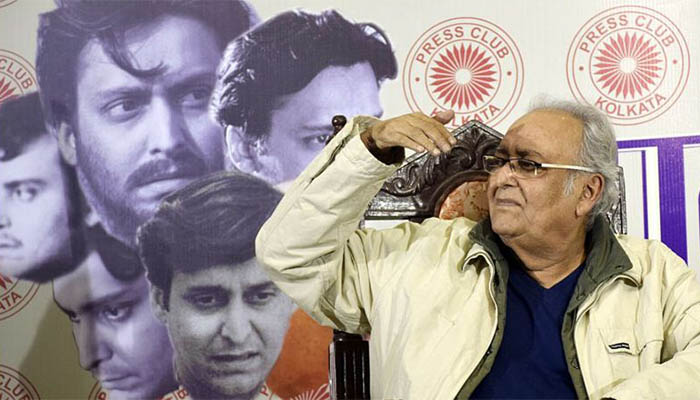 Apart from Satyajit Ray, Soumitra Chatterjee has acted in about 200 films of many famous directors including Mrinal Sen and Tapan Singh. Among his most popular films are Mrinal Sen's 'Akash-Kusum', Tapan Singh's 'Kshudhit Pashan', 'Jhinder Bandi', Ajay Kare's 'Atal Jaler Ahvan', 'Sat Pake Bandha', 'Parinita', Ashutosh Bandopadhyay's 'Three'. Bhubaner Pare 'etc.
Uttam Kumar and Soumitra Chatterjee, two rival heroes of the Bengali film world, have acted together in many films. Whether they were seen together on the screen or not, there was an extreme division among Bengali movie lovers about who their favorite hero was. A group of movie fans in West Bengal thought that there was only one 'hero of the people' - he was Uttam Kumar. And the clear verdict of the opposition was that there was only one 'last word' in the film of intellectual thinking - he was Soumitra Chatterjee.
He worked on various big and small screen films until he was attacked by Kovid-19. Many of his films have become very popular in recent times.
He is a successful hero in various films of Satyajit Ray, but due to his character 'Feluda', his nickname became 'Feluda'.
Soumitra Chatterjee did a lot more in the films of other directors than in Feluda or other roles directed by Satyajit Ray. Madhuja Mukherjee, head of the Department of Film Studies at Jadavpur University, said Soumitra Chatterjee had a rare skill that could simultaneously portray a different kind of character in a film by a director like Ray and another director at the same time.
Mr. was also very successful in stage acting and drama direction. Chatterjee. Soumitra Chatterjee told BBC Bangla that drama was his first love. So even after being busy with movie work, he would rush to perform in stage plays. He said that he started his acting career in the professional arena by performing the play 'Tapsi' in 1983 at the Star Theater in Kolkata.
He has worked hard to keep the love of his drama alive along with the silver screen. After shooting, he ran to perform on stage. He said he was such a busy protagonist in the film at the time that it was very difficult for him to find time for theater. He had to "burn a lot of wood" for her.
"Call it my addiction or love for the theater, it was so strong that I gladly accepted the pain," said Mr. Chatterjee. He did not give up stage acting till the end of his career.
He recorded the detective story "Tiktiki" in BBC Bangla studio in 1997.
Drama was Soumitra Chatterjee's first love and his second love was literature. He and Nirmal Acharya created a literary and cultural magazine called Ekshan in 1971. Thoughtful readers were waiting for that magazine. The magazine was named after Satyajit Ray.
Mr. Chatterjee was the joint editor of the paper. Anil Acharya, the editor of Anushtup, another magazine that complements Ekshan, told BBC Bangla that he used to work as an editor, write and then run to get advertisements.
As he wrote serious articles for magazines, he also wrote numerous poems. Books of his poems and plays have been published.
Soumitra Chatterjee has received numerous awards from home and abroad for his contribution in acting. In 2004, he received the Padma Bhushan award from the Government of India, twice the National Film Award, and in 2012, he received the Government of India's highest film title, the Dadasaheb Phalke Award, for his lifelong contribution to cinema.
Soumitra Chatterjee was awarded the Commandeur de l'Ordre des Arts et des Lettres by the French Ministry of Culture in 1999 for his contribution to the theater industry. He was the first Indian actor to be awarded this honor. In 2016, he was awarded the Legion of Honor, a civilian honor of the French government.
French filmmaker Catherine Berge made the documentary 'Tree' about her life.
With the demise of Soumitra Chattopadhyay, the legendary actor of Bengali films, that huge 'tree' or queen of the film world fell.
Source: BBC Bangla