The Coronavirus pandemic and rapidly worsening flood situation in the country's northern and middle parts have deepened people's sufferings, while food and drinking water crisis left thousands in great dismay. 
For the authorities, it has triggered the ultimate nightmare: the two-front war, in which the fallout from two disasters have to be managed at the same time.   
The dual disaster has perplexed the low-income people as most of them have been struggling hard to earn living in northern districts during this crisis.
The children, women, elderly people are going through a hard time, while some guardians seeking anonymity, complained that their girls were sexually harassed at shelter centers.
State Minister for Disaster Management and Relief Enamur Rahman on Thursday informed that eight people have so far died in the floods that have affected nearly 2.25 million people of 487,376 families in 18 districts, reports UNB.
The Health Emergency Operation Center & Control Room under Directorate General of Health Services (DGHS) on Saturday, reported since June 30, a total of 62 people were killed in different diseases caused by natural disasters like floods in 18 districts.
The casualties were caused by flood-related incidents, drowning, snake biting, diarrhea, RTI, skin diseases, were reported by Upazila health and family planning officers, civil surgeons and hospital authorities, said Dr Ayesha Akhter, assistant director of the control room.
During this period, 3,376 people have been affected by various diseases caused by floods.
Meanwhile, floods in 18 districts including Kurigram, Lalmonirhat, Jamalpur, Sunamganj, Lalmonirhat, Faridpur, Sunamganj, Sylhet, Tangail have hit the agriculture sector.
However, Agriculture Minister Md Abdur Razzaque on Saturday said the overall preparation has been taken to deal with the flood damage in the agriculture sector.
Various steps have been taken to produce more crops in the coming Aman and Rabi seasons, he added.
Floods situation reports according to UNB districts correspondents-
In Kurigram, two children drowned on Saturday afternoon in Ulipur Upazila.
The deceased were identified as Bayejid Islam, 8, son of Montajul Islam, of Alga union and one and half-year-old kid Munni Khatun, daughter of Bakul Mia, of Hatiya union of the Upazila, confirmed Dr Suvash Chandra Sarkar, Upazila health and family planning officer.
Seeking anonymity, a mother who took shelter on Kurigram-Bhurungamari highway, said she sent her tenth grader daughter to a relative's house after she was irked by youths.
"I brought five chickens with me, but four were stolen while I was sleeping," she added.
Another mother in the area said she and her husband went to collect relief goods leaving their adolescent daughter at a shelter center.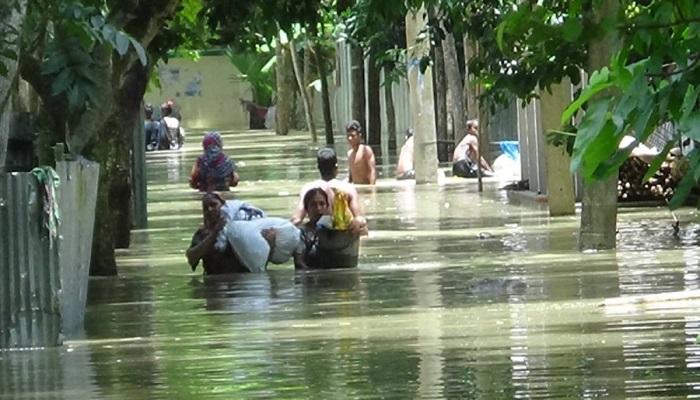 ''A man tried to sexually abuse my daughter,'' she said adding that ''We're passing days in worry.''
According to local sources, five primary schools were devoured by river erosion in the district while over 3 lakh people were marooned.
Many complained of not getting government relief and having trouble in managing safe drinking water in different spots in the district.
In Faridpur, the overall flood situation worsened with the rise of the water level in Padma River on Saturday. Faridpur Deputy Commissioner Atul Sarkar said 20,000 families in 30 unions were marooned in the district.
Sultan Mahmud, the executive engineer of Faridpur Water Development Board (WDB), said the Padma was flowing 105cm above the danger mark at Goalondo Point in the morning.
In Chandpur, a newly constructed 3-storey Rajrajeshwar Omar Ali School cum Cyclone Shelter building went into the gorge of Padma River.
During the last two weeks, erosion intensified in Padma and Meghna rivers in the Rajrajeshwar Union area in Chandpur Sadar.
Government's Steps
State Minister Enamur Rahman on Thursday said the government has allocated Tk 1.91 crore in flood-hit areas while 35,822 packets of dry food were distributed.
Meanwhile, the local administrations have already spent Tk 21 lakh for child food and Tk 21 lakh for cattle feed, he added.
The State Minister informed that 1,544 flood centers were opened in 12 districts where 30,705 people and 56,031 animals have taken shelter.
A total of 596 medical teams were formed but just 197 of them are working right now, he said.
All the preparation in the world would seem to have come a cropper, in the face of what will likely remain a two-front war for some more days ahead.