Bangladesh High Commissioner to the United Kingdom (UK) Saida Muna Tasneem has been awarded the 'Diplomat of the Year Award-2022'. She has been recognized by the UK-based Diplomat magazine for his contributions to climate diplomacy.

Venetia de Blocq van Kuffeler, the editor of Diplomat Magazine, presented the award to the High Commissioner at a colorful ceremony at Biltmore Mayfair in London on Monday (April 25).
According to a press release issued by the Bangladesh High Commission, this is the first time that a Bangladeshi diplomat has been given such recognition in the United Kingdom. The 'Diplomat of the Year Award' is a special prestigious award made by Diplomat Magazine, which is given annually on the basis of nominations and votes of ambassadors of more than 175 countries.
While handing over the award to Muna Tasneem, Venetia said that she (Saida Muna Tasneem) has been given this honor for her outstanding contribution and leadership in climate diplomacy in London as well as for her continued initiative and success in strengthening diplomatic relations between Bangladesh and UK.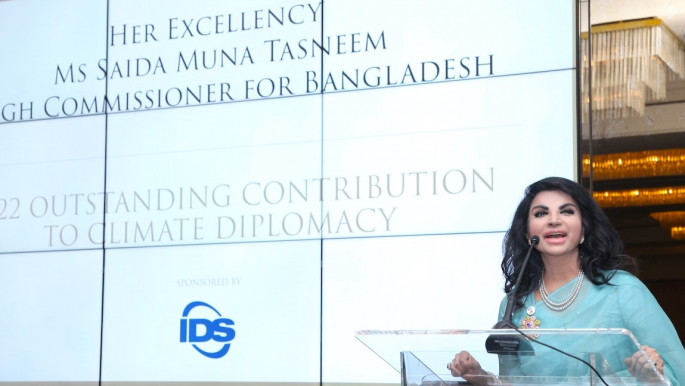 In an immediate response after receiving the award, Muna Tasneem said, "This recognition is a matter of great pride for my country.
The High Commissioner dedicated his award to millions of climate migrants around the world and to countless people affected by climate change in different countries, including Bangladesh.